Mark Weber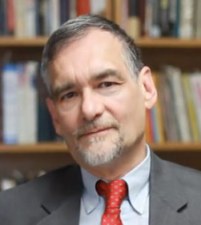 More than any other propagandist, Mark Weber, 45, embodies the Holocaust-denial movement. An articulate, media-savvy spokesperson with a master's degree in History from Indiana University, Weber got his start in the radical right in 1978, when he took the position of news editor for National Vanguard, a publication of the neo-Nazi National Alliance. In 1979, Weber also began to contribute regularly to The Spotlight, a weekly
tabloid produced by Willis Carto's Liberty Lobby organization. His involvement with the IHR also intensified steadily over the years; initially working as a contributor to the now-defunct IHR Newsletter, Weber began serving as emcee for the group's annual conventions in 1984. In 1985 he became a member of IHR's Editorial Advisory Committee and in 1992 he became editor of the Journal of Historical Review. Following IHR's break with Carto and the subsequent departure of most professional staff members in 1993, Weber became director of the organization with one professional staff person serving under him.
Weber's more openly extremist commitment to white supremacy has not abated during his pyrrhic ascendancy through the IHR ranks. Throughout the 1980s, he maintained his contact with the National Alliance, serving, according to official documents, as treasurer of that organization's "Cosmotheist Church."
Similarly, in 1987, graduating seniors at four private high schools in Atlanta received copies of a 584-page racist and anti-Semitic book, The Dispossessed Majority, with a letter signed by Weber which stated, "... You and your classmates may expect to face grave political, economic and social problems. There will be outright discrimination against you as you compete for admission to the better colleges. Less-qualified nonwhites with lower academic standing will be pushed ahead of you by means of racial quotas and four-year scholarships."
In 1989, several ROTC cadets at Auburn University received an identical mailing from Weber. In the same year, Weber was interviewed by The Sower, a student newspaper at the University of Nebraska. In the interview, Weber stated, " l'm concerned about the future of (the white) race and I'm concerned about the future of our country." He also warned against America's becoming "a sort of Mexicanized, Puerto Ricanized country.... I don't believe it's possible for Black Americans to be assimilated into white society."
Nonetheless, it is as a Holocaust-denier that Weber has found his niche on the radical right, and it is through the IHR that he has found the platform to pursue his increasingly solitary, yet persistently hateful propaganda mission.