Notable Holocaust deniers
Holocaust denial (commonly called Holocaust revisionism by its supporters) is the belief that the genocide of Jews during World War II - the Holocaust - did not occur. Key elements of this belief are the explicit or implicit rejection that, in the Holocaust.
- The Nazi government had a policy of deliberately targeting Jews, people of Jewish ancestry, and the Roma (also known as Gypsies) for extermination as a people.
- More than five million Jews were systematically killed by the Nazis and their allies.
- Tools of efficient mass extermination, such as gas chambers, were used in extermination camps to kill Jews.
In addition, most Holocaust denial implies, or openly states, that the Holocaust is a hoax which is the result of a deliberate Jewish conspiracy created to advance the interest of Jews at the expense of other peoples. For this reason, Holocaust denial is generally considered an antisemitic conspiracy theory. Because of this, Holocaust denial has been illegal inseveral European countries, as their governments hold that it is motivated by an antisemitic or neo-Nazi agenda.
Holocaust deniers do not accept "denier" as an appropriate term to describe their point of view, using the term "Holocaust revisionists" instead. They are nevertheless commonly labeled "Holocaust deniers" to differentiate them from historical revisionists who consider their goal to be historical inquiry using evidence and established methodology; Holocaust deniers, on the other hand, try to prove that the Holocaust did not occur, regardless of historical evidence.
Holocaust denial is illegal in a number of European countries: Austria (article 3h Verbotsgesetz 1947), Belgium (Belgian Negationism Law), the Czech Republic under section 261, France (Loi Gayssot), Germany (§ 130 (3) of the penal code) also the Auschwitzlüge law section 185, Lithuania, The Netherlands under articles 137c and 137e, Poland, Romania, Slovakia, Spain and Switzerland (article 261bis of the Penal Code). In addition, under Law 5710-1950 it is also illegal in Israel.
Notorious Holocaust deniers
Fred Leuchter - One of America's most influential Holocaust deniers, Leuchter in 1988 produced The Leuchter Report, which purported to offer "scientific" proof that there were no gas chambers at Auschwitz. In fact Leuchter has no qualifications whatsoever. Thoroughly discredited, the report nonetheless had a significant impact on the Holocaust denial community. Leuchter was deported from the UK in November 1991 after David Irving brought him into the country illegally to address an international Holocaust denial rally in London. Nick Griffin, now the BNP leader, was in charge of his security.
David Duke - Duke is a self-styled white nationalist, though critics often label him a white supremacist. He says he does not think of himself as a racist, stating that he is a "racial realist" and that he believes "all people have a basic human right to preserve their own heritage." He speaks against racial integration and in favor of white separatism.
Duke made several unsuccessful bids for political office, including runs for the Louisiana House, Louisiana Senate, U.S. Senate, U.S. House, governor of Louisiana and twice for president of the United States. In 2002, he pled guilty to tax evasion and fraud charges, resulting in a year-long prison sentence. He is a long-time New Orleans resident and the father of two.
Mark Weber - Weber has been the director of the Institute for Historical Review (IHR) since 1995. The IHR is perhaps the leading disseminator of Holocaust denial material in the Western world. Weber is a former member of the Nazi National Alliance.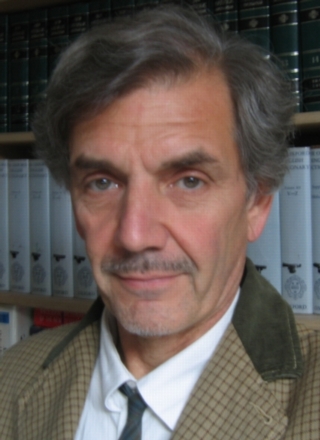 Michael Hoffman II - Hoffman is a leading light in the American Holocaust denial movement noted for his conspiracy theories, which he expounds through his "revisionist history" website.
Gerd Honsik - A leading Austrian far-right activist and Holocaust denier, Honsik has been imprisoned several times. Most recently he fled to Spain in an attempt to escape prison but was arrested and deported back to Austria in 2007 to face the music. Honsik is the author of Hitler Innocent? in which he tries to exonerate Hitler and the Nazis for some of their murderous deeds.
Wolfgang Frölich - Author of The Gas Chamber Fraud and a former Austrian Freedom Party (FPÖ) member, Frölich attended the Iranian Holocaust denial conference in Tehran in December 2006 but did not speak for fear that the Austrian authorities would prosecute him. He was jailed in 2008 for four years for denying the Holocaust (with a further two-and-a-half years added from a previous suspended sentence for a similar offence) for writing to Austrian MPs and Pope Benedict XVI that the Holocaust was a "satanic lie"
Dr. Herbert Schaller - Schaller is an Austrian lawyer who specialises in defending Nazis and "revisionists". His clients have included Ernst Zündel, David Irving, Pedro Varela and Otto Ernst Remer, the veteran Nazi leader who ruthlessly put to death many of the 1944 bomb plot conspirators who tried to kill Hitler. Schaller shares the beliefs of his clients.
Fredrick Töben - A German-born Australian Holocaust denier who runs the Adelaide Institute as a platform for his activities, Töben was jailed for seven months in Germany in 1999 for "offending the memory of the dead". An attempt by the German authorities to extradite him from Britain in 2008 failed.
Richard Kriege - An Australian Holocaust denier associated with Fredrick Töben, Kriege claims to have conducted an Adelaide Institute-funded investigation with "ground-penetration radar" at the site of the Treblinka death camp which proved that no Jews were killed there. Kriege has lectured Iranian students at three universities denying the Holocaust. He regularly contributes to US antisemitic newspapers.
Leonardo Clerici - A Belgian Holocaust denier who chairs the Skriptura Institute in Belgium, Clerici explained his beliefs while attending at the Iranian Holocaust denial conference by saying: "I believe that the value of metaphysics is greater than the value of history".
Siegfried Verbeke - Verbeke is a leading Belgian Holocaust denier and far-right activist whose lies about the Holocaust have led to his imprisonment on a number of occasions.
David Irving - Irving is the doyen of "revisionist" literature. His failed libel action against Professor Deborah Lipstadt and Penguin books in 2000 exposed him to the world not as a bona fide historian but as a racist, antisemitic, far-right polemicist whose work unduly exonerated Hitler for the crimes of his Nazi regime.
Bishop Richard Williamson - An English traditionalist Catholic bishop who opposes the changes in the Catholic Church brought about by the Second Vatican Council. He was originally a member of the Society of Saint Pius X (SSPX), but was expelled from the SSPX in 2012.
In early 2009 Williamson achieved widespread notoriety as a Holocaust "revisionist" following the broadcast of a Swedish television interview in which he denied the existence of gas chambers in the Nazi death camps
Lady Michèle Renouf - A former model, born Michèle Mainwaring, Renouf is David Irving's chief cheerleader and runs her own Telling Films outlet as a vehicle for her antisemitism. She is a regular talking head on the Iranian-owned Press TV. Renouf sits on the International "Holocaust" Research Committee (IHRC) Interim Committee established to perpetuate the work of the Iranian Holocaust denial conference of December 2006
Paul Fromm - A veteran Canadian far-right activist who lives in Ontario, Fromm is a leading light in the Canadian Association for Free Expression (CAFÉ), an organisation he founded in the early 1980s to publicise the cases of racists and Holocaust deniers who face prosecution. He has shared platforms with David Irving.
Christian Lindtner - Lindtner is a Danish Holocaust denier from Copenhagen University who spoke at the Iranian Holocaust denial conference on the topic "Danish media and the Holocaust".
Robert Faurisson - Considered by many to be the high priest of French Holocaust denial, Faurisson is a former professor of French literature at the University of Lyon. His speech in defence of Nick Griffin, now leader of the British National Party, in 1998 at Harrow Crown Court did little to persuade the jury who found Griffin guilty of inciting racial hatred. He has been convicted for Holocaust denial on numerous occasions.
Serge Thion - A French sociologist and former leftist turned Holocaust denier, Thion is closely associated with Robert Faurisson, with whom he wrote The Faurisson Affair File: The Question of the Gas Chambers. Thion was a researcher for the French National Centre for Scientific Research (CNRS) but was sacked in 2000 after remarks about the Holocaust.
Germar Rudolf - Rudolf is a German Holocaust denier and chemist whose publication of "revisionist" literature in the form of the Rudolf Report led to his prosecution in 1995. In response Rudolf fled Germany to the United States, where he applied for asylum. He was turned down in 2006 and deported to Germany, where he was imprisoned.
Ernst Zündel - One of the world's leading Holocaust deniers, Zündel's writings include The Hitler We Loved and Why and UFOs: Nazi Secret Weapon? In 2005 Zündel was deported from Canada to Germany to stand trial for Holocaust denial. Convicted and imprisoned, he was released in March 2010. Among those waiting for him outside the prison gates were Lady Renouf and Richard Edmonds of the BNP.
Ursula Haverbeck - Despite being 81 years old, Haverbeck, the former president of a recently banned far-right group, Collegium Humanum, was given a six-month suspended prison sentence and fined €1,000 in Munich for distributing Holocaust denial material in schools. Haverbeck's husband was Werner Georg Haverbeck, a member of the leadership of the NSDAP during the Third Reich.
Rigolf Hennig - A German revisionist and far-right activist, Hennig is close to Ernst Zündel and waited for him outside the prison gates when he was released in March 2010. Hennig was jailed for nine months in 2006.
Konstantinos Plevris - Plevris is a veteran Greek far-right activist whose book, Jews: The Whole Truth, led to his prosecution in 2007 for inciting racial hatred. He was found guilty but the verdict was overturned on appeal in 2009 to international outcry.
Alfonso Pengas - Pengas was the lone Greek delegate to the Iranian Holocaust denial conference in 2006, where he delivered a paper entitled "The geopolitical environment of the Holocaust Myth". Pengas is a pseudonym of Abu Nicola al Yunani who appears to be involved with an outfit called "Free Arab Voice".
Carlo Mattogno - An Italian Holocaust denier, Mattogno has published several books on the subject includingThe Myth of the Extermination of the Jews (1988). He is a contributor to the Institute for Historical Review.
Norman Lowell - A Maltese fascist Lowell describes the Holocaust as a "hoax" and is surprisingly popular in certain British far-right circles. In 2008 he was sentenced to two years' imprisonment, suspended for four years, for inciting racial hatred and for insulting the President of Malta.
Dariusz Ratajczak - Ratajczak was dismissed from his position as a history lecturer at the University of Opole, Poland, following the publication of his book Dangerous Topics, which claimed that the gas chambers at Auschwitz were used merely to delouse prisoners. Ratajczak recently died of alcohol poisoning, his decomposing body being found in his car.
Flávio Goncalves - Described as a "journalist and researcher", Goncalves from Portugal attended the Iranian Holocaust denial conference in 2006.
Oleg Anatolyevich Platonov - A Moscow-based extremist, Platonov was due to attend a Holocaust denial conference in Beirut in 2001, which was cancelled by the Lebanese authorities. Unperturbed, Platonov organised a revisionist conference in Russia the following year in conjunction with the .Barnes Review, an American far-right publication.
Nadin Ravski - Ravski was the sole Russian delegate to the 2006 Iranian Holocaust denial conference.
Pedro Varela - A longstanding far-right activist, in 1998 Varela became the first person to be tried and convicted for Holocaust denial in Spain. He was jailed for five years and fined the equivalent of £3,000. Varela led the nazi Spanish Circle of Friends of Europe (CEDADE), which for 30 years was one of the most infamous international far-right organisations.
Ahmed Rami - Born in Morocco, Rami has lived in Sweden since 1973. His public radio programme, Radio Islam, served as a vehicle for his antisemitism and led to his imprisonment in 1990, which failed to deter him. He has lectured the Swedish nazi National Socialist Front, which distributes his books.
Ditlieb Felderer - Felderer is a Swedish Holocaust denier and author of Anne Frank's Diary – A Hoax, which was one of the first books published by the Institute for Historical Review founded by Willis Carto, the veteran US antisemite. He has been imprisoned on several occasions for his noxious views.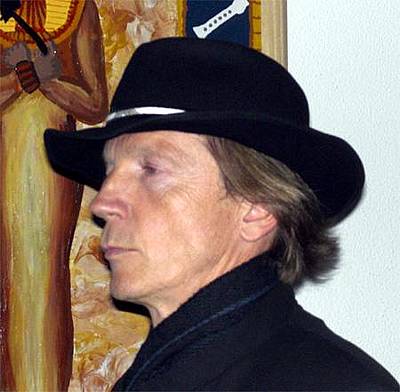 Bernhard Schaub - A Swiss schoolteacher, Schaub was fired after publishing his views on the Holocaust in his book Alder and Rose (1992). He has spoken at NPD events in Germany and is a leading light in the Organisation for the rehabilitation of people persecuted for denying the Holocaust, an international convocation of bigots.
Vincent Reynouard - (born 1969) is a chemical engineer, a math professor, an independent historian and a Holocaust denier who has been jailed in France for his writings about the Second World War. The law in France is called the Gayssot Act. His revisionist work gained notoriety in connection with the Oradour-sur-Glane Massacre. His work, alone and with others, is sometimes labeled by courts as "contesting crimes against humanity", and sometimes as "disputing crimes against humanity". Mr. Reynouard believes that "we must take up the best of what National Socialism comprised in order finally to surpass it and forge a doctrine that will be able to save our Old Continent."